Contact Us
If you are interested in booking or just getting in contact with Winds of the Moon Belly Dance please complete the form below. Rates are determined on a case by case basis, as each package is unique. We offer packages at variable price points, and we are more than willing to work within your budget.
Options range from a single dancer to a full troupe (four dancers). Please consider the size of the performance space when determining the number of dancers requested.
Performances at events are typically blocked as one 30 minute set or two 15 minute sets.
Specialty acts include sword dance, cane, zills (finger cymbals), veil, fan veils (short or long), poi spinning (fire/LED), hoop, fire fans, palm torches, and flamenco fans. Some specialty acts are at an additional fee- please contact us for an estimate.
Unsure of what some of these acts include? Check out our YouTube channel to view demo clips and past performances.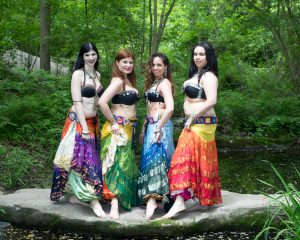 For more information visit our FAQ page.
FAQ
What do I need to know before hiring Winds of the Moon Belly Dance to perform?
We typically arrive at a venue 30 minutes prior to the scheduled performance time (1 hour early for larger productions). This gives us time to view the performance space, set up our gear, and finish changing.  When booking please indicate as to whether there is available changing space so we can plan accordingly.
Please indicate if a our performance is a surprise so that we can be discreet.
Please note- we may bring an assistant (non-dancer) along with us in some cases.  This is at no additional cost to you.
What do I need to know about tipping dancers?
Tipping is welcome in a restaurant or party setting, but is not encouraged at stage shows. Please be respectful of your dancers while tipping. It is preferred that tips are showered/thrown over the dancer. Staff will collect tips off of the floor following the performance and will give them directly to your dancer. If you are uncertain, come up to us following our performance! We'd love a chance to talk!
What do you need in the case of audio and sound systems?
Please indicate if you do not have a sound system so that we can bring our own. Our audio system is not recommended for stage shows due to volume restrictions. Sound systems provided must have an auxiliary output.
What type of music do you typically dance to?
We typically use a combination of traditional and modern music for our performances, please indicate if you have a preference.
What type of events do you dance at?
We love performing at all types of events.  Most frequently we get asked to perform at ladies nights, birthdays, bachelorette parties, festivals, conventions, and so much more.  If you have an event in mind let us know.  We will help you figure out the best type of package we feel would be best for the event.  
Do you offer and or dance to live music?
Our dancers are skilled improvisers who love performing with musicians! Willow plays middle eastern doumbek and frame drums. We also have contacts with several musicians and ensembles that we recommend
What do I need to know about fire performances?
Fire performances require a safe outdoor location with adequate space. We are equipped with our own fire safety gear and training.
I would like all of the lights and excitement of a fire performance but I do not have a safe outdoor location.  What should I do?  
We can also provide LED performances with all of the excitement with none of the restrictions.
What packages are available?
We offer a performance option of a 30 minute show to entertain your guests.
Additionally we offer a performance/lesson option.  This includes a 10 minute performance followed by a 20 minute mini lesson to get your guests moving! For larger groups we recommend at least two dancers to give your guests more attention. Lessons max out at 30 participants.
I have a themed event.  Do you have a performance option that fits that theme?
We are happy to customize our performance to fit your vision, whether it be for an event, party, convention, or hafla! We can incorporate thematic music, costume pieces, and even theatrics!
What themed events have you done in the past?
Past themes include 1920's/speakeasy, Halloween/Gothic, Pop culture 
I own a restaurant/bar and we are interested in booking you.  What should I know before hand?
We can provide dancers to do small sets while your customers dine. Bookings can be made on a singular or recurring basis. Typically 1 to 2 dancers, as space allows. Changing area preferred.
We ask that cancellations are made 5 days prior to scheduled performance date. Larger events may require contract and possible deposit. Payment to be made at time of service- cash or check preferred.
I would like to hire you for a charity performance. What should I know before hand?
We are more than happy to perform at fundraisers at no charge! That includes stage shows, festivals, and photos ops. All tips from fundraisers will be donated back to the supported charity.
Do you do events outside of the Long Island or New York City area?
We love a good adventure! Travel and/or Lodging expenses may apply. Contact us for an estimate prior to booking.
 Where else can I see you perform besides hiring you for a private event?
Don't have an event of your own, but would like to see us dance? Subscribe to receive updates regarding upcoming public events! You can also visit our events page for a list of all upcoming events.